The United Kingdom and Europe are in suspense over the latest events that have taken place with Brexit. This situation that began in June 2016 with a referendum, can end on March 29.
The real estate market of the Costa Blanca is a sector that has been directly involved in the Brexit process. The British has always been the sector with the highest percentage of sales in the province of Alicante. During these three years, the UK continues to rely on the Costa Blanca to buy a home despite the fact that the number of transactions has declined. In fact, the real estate market in this area continues to grow in terms of the sale of properties to foreigners.
A few days ago, we wrote about the figures of operations that have been generated in recent years. You can access the information by clicking on the following link: https://mediaelx.net/en/news/1074/sale-of-properties-to-foreigners-real-estate-websites/
The Brexit has opened new investment fields for real estate agencies. The reality is that the Costa Blanca is not only nourished by British tourism, but also from other countries that have found in it, a place to buy a house.
What markets have emerged after the Brexit process?
The decline in the sale of properties to British customers has favored the appearance of new markets that are growing at a rapid pace. France, Belgium, Switzerland, Holland and Norway are the main countries that are seeing how their residents trust a Costa Blanca real estate to buy a home.
The investors who pay the most for a house are:
Dutch: an average of € 232,573
Norwegian: an average of € 202,681
Swiss: an average of € 200,499
On the other hand, La Vega Baja is the area of residence most chosen by foreigners. Torrevieja and Orihuela Costa group 33% of sales operations. Second-hand housing accounts for more than 60% of transactions, compared to new build.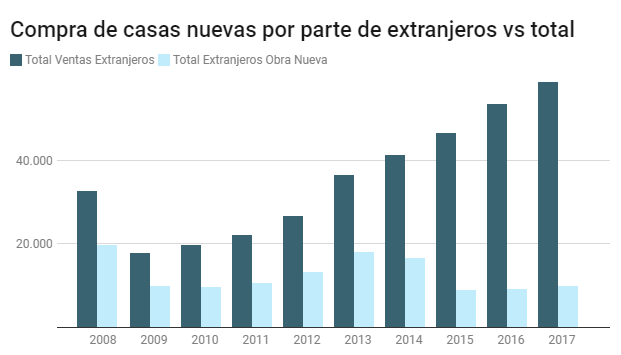 How can a real estate agent take advantage of this new situation?
Despite the fact that the Costa Blanca real estate market is growing day after day thanks to the sale of homes to foreigners, many agencies do not finish taking advantage of the new possibilities.
With the ramification of new international investors, it is very important to draw your attention to opt for your real estate. For this, you have to have a professional website that shows the home that the user is looking for. At Mediaelx we are experts inreal estate website design.
We can help you increase your sale number of properties to emerging customers with a personalized, modern and attractive website. In addition, we can develop an online project in several languages so that the foreign user is more comfortable in their navigation and access faster to the house you are looking for.
If you want your website to have other languages, such as Belgian, French, Dutch, Mediaelx can take care of it. In addition, we help you to increase the field of vision of your properties with our export service to real estate portals.
Being an expert in the real estate web sector, we know the most important reference sites nationally and internationally to share your homes.
Web positioning is another channel that you can take advantage of to increase your sales percentage. In Mediaelx we have a qualified team in Online Marketing that can help position your real estate and your properties in the main search engines: Google, Yahoo, Bing ...
It fulfills the dream of any foreigner who wants to live on the Costa Blanca, offering a multi-language quality website
If you need a real estate website translated into several languages, Mediaelx will design it for you. Take advantage of the growth of the real estate market in Alicante, enjoying a personalized online project.
If you want to contact us, we are waiting for you at Calle Vicente Blasco Ibáñez, 58 03201 Elche (Alicante). Our telephone number is +34 966 222 989 and our email: info@mediaelx.net
Do not forget to follow us on social networks too!
Facebook: https://www.facebook.com/paginaswebprofesionales
Twitter: https://twitter.com/mediaelxweb
LinkedIn: https://www.linkedin.com/company/mediaelx-web-design/.
Image gallery
Share