That Google is the search platform most used by users is something that does not surprise anyone. However, this search engine has seen how a competitor has emerged in recent years: Bing .
Since 2015 , Microsoft's search engine has not stopped growing. United States and United Kingdom are the two countries where the percentage of use of Bing has increased the most. In 2018, for example, more than 12 billion searches were recorded , of which 33% represent the American sector and 26% represent English .
This year, everything indicates that the Bing search figures will continue to grow and will continue to focus on these two countries. In Mediaelx we work with many clients that guide their services to British commerce, that's why we already use this search engine to optimize your company profile in Bing.
Places for Business, the Bing company listing
Just as there is My Business in Google, Bing has its professional tab creation system: Bing Places for Business . It is very simple to use and highly recommended to manage it.
In Bing Places you can insert all the information of your company , as well as the most descriptive images of your business. Your clients can also leave you reviews so that new ones can see their degree of satisfaction. In short, it is a good tool to give visibility and growth to your company.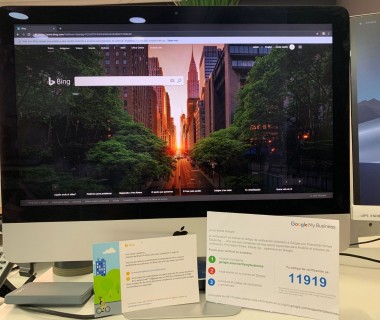 In Mediaelx we have found files where, as in Google, they are generated automatically. To claim it, Bing asks you to verify your profile by mail, phone or postal address. We often choose the postal mail. Using a PIN code , you can manage your Places for Business account.
Our Online Marketing team is responsible for generating a descriptive and optimized sheet to each of your SEO clients. Using all the necessary resources, we improve your Internet presence.
Do you have a company and want to improve your positioning in Bing? Contact Mediaelx
If you have a web page where you focus your services in countries like the United Kingdom , Mediaelx offers you its web positioning so that you increase the presence of your company in Bing .
You have already seen that this search engine is very important in this country. Take advantage of this growth and now hire our SEO . We will create your company profile in Bing and manage other areas of web positioning on the Internet.
If you take a look at our website you can see the different strategic plans that we can offer you. We are specialists in real estate SEO but we position all types of businesses.
Do you want to have your 'Bing Places for Business' tab? Contract now our Web Positioning
If you want to have your company profile and improve the visibility of your business in Bing, we offer you our web positioning service for companies. Contact us now and ask us for more information.
You can reach us at +34 966 222 989 or at info@mediaelx.net . Our headquarters is located in Elche (Alicante), Calle Vicente Blasco Ibáñez, 58 03201. You can also contact us through our social networks. Follow us and discover how Mediaelx can help your company to be more successful on the Internet.
Facebook: https://www.facebook.com/paginaswebprofesionales
Twitter : https://twitter.com/mediaelxweb
LinkedIn : https://www.linkedin.com/company/mediaelx-web-design/ .
Image gallery
Share